COVID-19 | Travel info and safety in B&B Hotels in Italy
Last update | 28 April 2022
As of 1 May, stays in all B&B Hotels in Italy and access to bars, restaurants, events and congresses - both outdoors and indoors - is permitted without any certification and without the need to wear a mask.
Reservations made for B&B Hotels in Italy
If you are a voucher holder or if you have any other information about existing reservations at a B&B Hotels property in Italy and if you have any doubts or questions, please contact us.
If you have made a reservation for a B&B Hotel in another European countries click here.
Our dedicated security protocol 
We have created the dedicated Safety Label High-Quality Anti Covid-19 protocol, for the safety of our guests and all the staff operating in the chain's structures in Italy, thanks to the collaboration with BCO Consulting, a leading company in the field of safety in the workplace and Rentokil-Initial, the largest group in Italy in the sector of hygiene services.
The protocol is constantly monitored, in order to obtain the highest level of effectiveness in the fight against the spread of Covid-19, ensuring maximum comfort and full usability of B&B Hotels in Italy by everyone. 
Health measures implemented: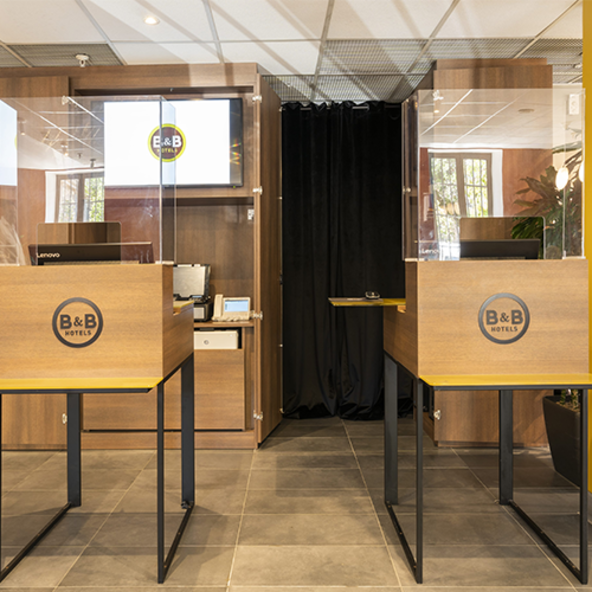 Safety
• All our hotels are now equipped with certified personal protective equipment (PPE), such as masks and gloves, as well as dispensers,
• Protective plexiglass at reception desks,
• Spacing lines on the floor,
• Invitation to use the lift one person at a time.
Sanification
• The sanitization process is applied daily in the corridors, common areas and rooms thanks to the use of ionizing machines,
• Sanitation of surfaces in the hall, at the reception, on the furniture elements, in the toilets, in the elevators and relative push-button panels.
Breakfast
The breakfast buffet is back in all B&B Hotels in Italy! If you don't want to miss out on the pleasure of a sweet awakening, you can add breakfast to your online reservation from only €7.20 (from €3.80 for children under 10) and enjoy a varied and delicious buffet. Breakfast includes many options for sweet and savoury lovers such as bread, jam and rusks, cakes, muffins, cereals, yoghurt, scrambled eggs, frankfurters, cheese, soft drinks, coffee and even bio and gluten free options! 
Lunch and dinner at the hotel!
Discover our extensive B&B Shop! You'll find a selection of ready meals, snacks and drinks for a quick break without giving up the taste of quality products. To add comfort to your trip, discover our beauty corner with products from the best brands such as creams by Karité, face masks by Miloon and MakeUp products by Mumi and discover the selection of tech accessories that can always come in handy such as smartphone accessories, chargers, headphones and much more!