B&B HOTELS: accessible hotels across France
Hotels with disabled access
To ensure that all our customers enjoy an incredible stay, our network of hotels in France offers rooms for disabled guests. You can choose a room with disabled access by booking online on our website or by contacting our hotel managers directly.
We've considered every stage of the customer experience to ensure a seamless stay with B&B Hotels.
A hotel reception for disabled guests
On arrival at your hotel, you can use one of our disabled parking spaces which are located next to reception. You'll be able to access your room easily too. You can also ask our receptionists to help you to move your luggage, for added convenience. We're here to help; let us know if we can do anything to improve your stay.
We've redesigned our outdoor areas to make them accessible: each of our hotels has a marked pathway from the property's gate to the entrance, along with one or several disabled parking spaces which are close to the hotel's entrance.
Accessible hotels, 24 hours a day
For guests who want to access our hotels outside of their opening hours, we've adapted all of our automatic machines and terminals so that they're accessible for all guests. Our automatic terminals which provide room codes, after payment or online booking, can be used by disabled guests; the electronic keypad to access the hotel when closed is also at an accessible height so that it can be used by all guests.
For guests arriving at our hotels during reception opening hours, all of our counters are at mid-height, making them suitable for everyone.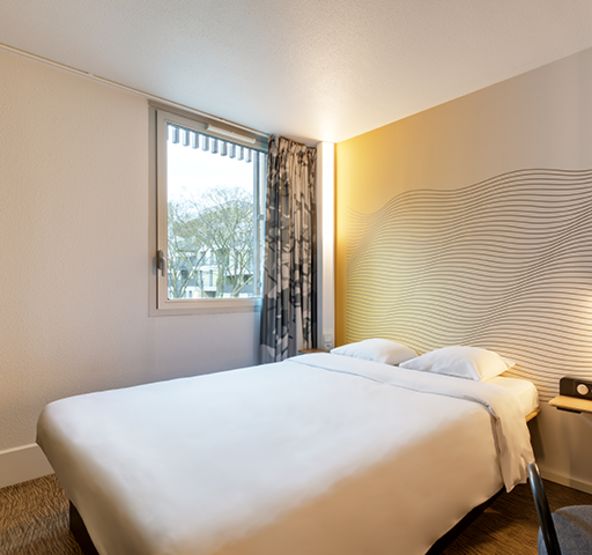 Accessible rooms
Book with our hotel chain for rooms which have been designed with your needs in mind.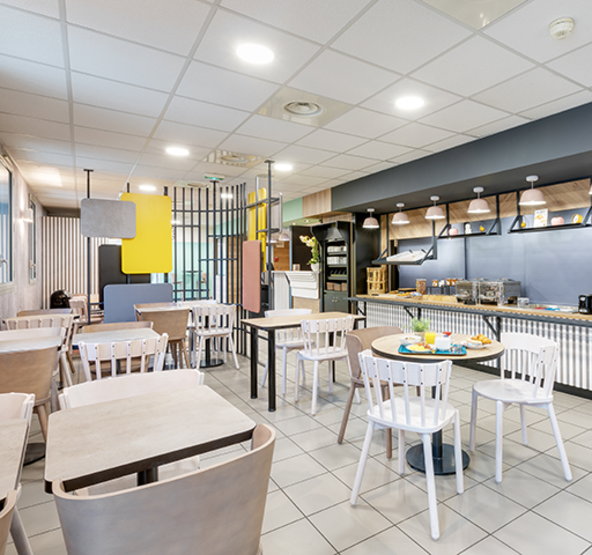 Breakfast room with disabled acces
All of our common areas and our breakfast buffet offer disabled access.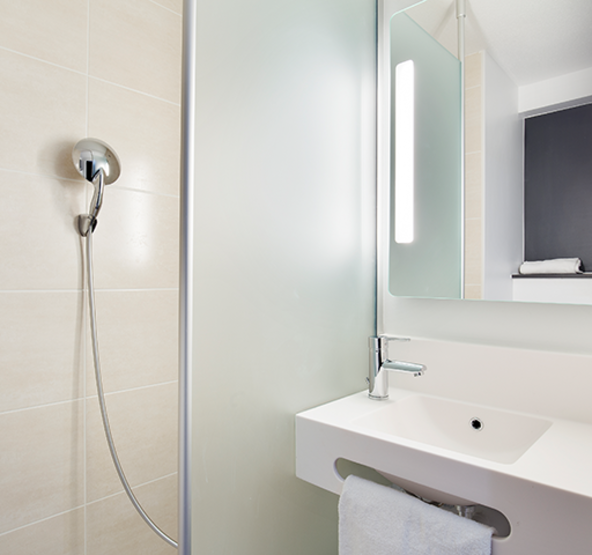 Disabled bathrooms
We want you to enjoy your independence during your stay, which is why each of our disabled rooms has a specially designed private bathroom.
Common areas for everyone at B&B Hotels!
Whatever the reason for their stay, we want all our guests to make the most of their time at our hotels, which is why we've designed our common areas for everyone to enjoy.
Treat yourself when the alarm goes off with an unlimited buffet breakfast in our hotels. The lay-out of our buffet breakfast has been cleverly devised to ensure access for guests in wheelchairs or with disabilities.
Take advantage of our cleverly designed common areas and spend time with your friends, family or colleagues.
Disabled access rooms at B&B HOTELS
We welcome disabled guests: we offer rooms with en-suite bathrooms with all the facilities and equipment you'll need for a great night's sleep and a seamless experience when you stay with us.
All our rooms have a wardrobe which is no more than 1.3m high, along with a desk with a seat width of 80cm. The room's facilities have been designed to ensure that all guests can use them: switches, plugs, lights, etc.
In our bathrooms, you'll find a mirror at a lower height and a basin which has been adapted for wheelchair users.
Our roll-in showers have a seat and grab bars for easier access.