Are you looking for an hotel that accepts your dog ?
Pet-friendly hotels: the French way!
Hotels designed also for animals
Our hotels are warm, functional, attractive and accessible to all ... and even to your pets! This is the #onlyforeveryone philosophy.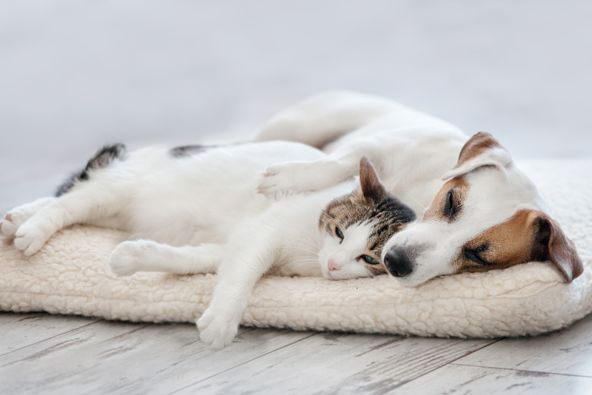 Pets at B&B HOTELS
For more than 30 years, at B&B HOTELS, we have been welcoming your pets by offering you a hotel that accepts pets. For 4€ per pet and per night, your pet can accompany you to your room.
You don't know how to organize yourself with your pets every time you go on a trip? Our B&B HOTELS have the solution to help you! Indeed, our starred hotels, located in many regions of France, allow you to come with your four-legged friends.
Whatever the destination, from Brittany to the Côte d'Azur, through Normandy, Alsace, Pays de la Loire, Île de France or Hauts-de-France, your pets are welcome in our hotels, throughout many regions in France! Whether they fit in your purse or are more the eating type, your dog or cat is welcome in our hotel rooms throughout France! Just like their family, they have the right to enjoy their vacation by the sea, in the city or near the lake!
With a small fee (4€ per night), organizing your stay has never been easier! Whether you are staying in a hotel in Lille, Toulouse, Clermont-Ferrand or Lyon, all you have to do is indicate the presence of your dog, cat or other animal when making your reservation. All you have to do is enjoy your room at B&B HOTELS! During your weekend in our hotel, and to ensure that your stay and that of the other guests is as pleasant as possible, your pet cannot access the breakfast room, but must wait patiently in the room while the rest of the family enjoys the full sweet and salty breakfast at will!
You will have understood, B&B HOTELS offers you the solution for your weekends, small or big, and your vacations, without you having to rack your brains to organize yourself! Your pets, allowed in our hotels, also have the right to a vacation worthy of the love you give them and they give you!