Accessibility in B&B Hotel in Italy
B&B Hotels is founded on the values of inclusivity and social responsibility. It is essential for us that all our customers are able to travel autonomously, safely, and comfortably. 
We are aware that every customer has their own needs, so our goal is to make our hotels easily and equally accessible for all our guests. 
Therefore, we have set high standards, that can make a huge difference. Our hotels have a series of facilitations for the elimination of architectural barriers, thought to accommodate people with sight, hearing, and mobility disabilities, but which can be beneficial also for the elders and people in recovery. 
In particular, both the common areas and rooms are accessible for wheelchair users thanks to ramps, hallways designed according to law, spacious bathrooms, ergonomic sinks, realizable WCs, floor showers with handrails, and outward openings. 
You can find our hotels designed for you in all of Italy, whether you are traveling for work or want to enjoy a relaxing holiday. 
To find out more, check the responsibilities of rooms designed for your needs directly on our website. 
Common areas accessible for everyone
All our common areas: lobby, elevators, corridors and breakfast rooms are within easy reach.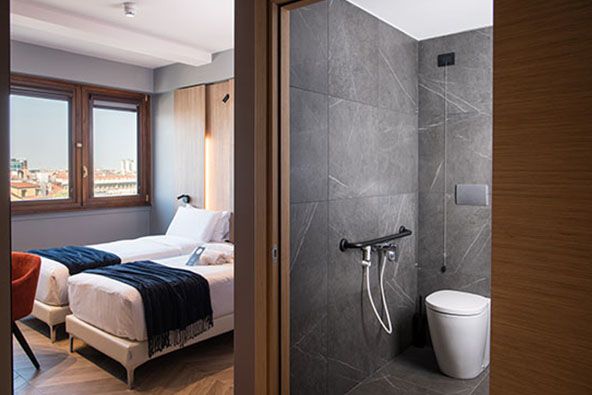 Comfortable and spacious rooms
Book the room designed for you in the B&B Hotel of your choice and travel in comfort.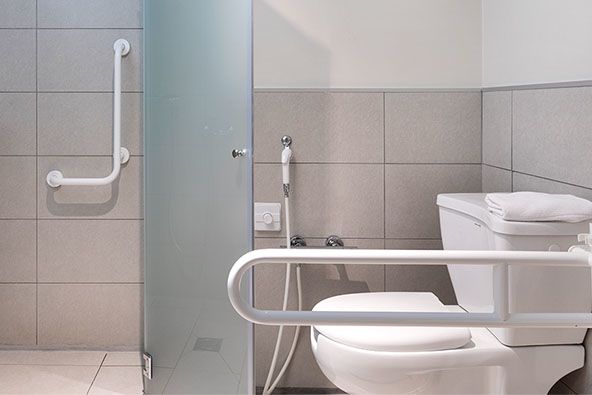 Accessible bathrooms
By booking the accessible room, you will have access to a private bathroom, equipped to provide maximum autonomy.