Sustainable company - CSR
Corporate Social Responsibility (CSR) is a way of managing companies based on managing the impacts that their activity generates on their customers, employees, shareholders, local communities, the environment and society in general. Discover all the initiatives we have in B&B Hotels!
Plastic Free 
Image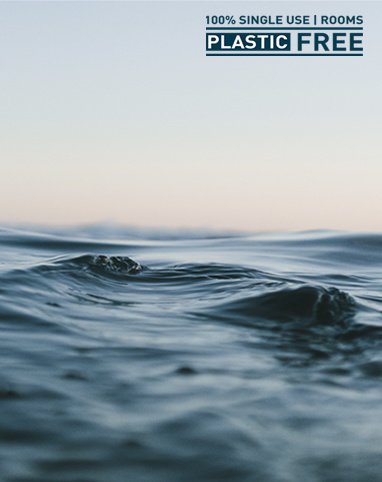 Because at B&B Hotels we believe in a better world, we have launched a unique initiative in our hotels, becoming the first hotel chain that eliminates plastic from all their rooms. Thanks to this action we are able to save 24,000 kg of plastic every year. Join us!
At B&B Hotels Spain and Portugal we have managed to remove 100% of the disposable plastics in our rooms. We are changing to offer a more sustainable stay! Below, we tell you all the steps we are taking to become Plastic Free:
The water provided in the rooms is now packed in cardboard. It is manufactured with 70% renewable materials and a lid made of vegetable origin.
Our plastic cups are now made of paper, benefiting the cardboard recycling rate to 77% against  35% for plastic.
Our bins will not have plastic bags avoiding us to throw more than 8,000kg of plastic to the trash every year, which takes 10-20 years to decompose.
Now we use soap dispensers and we remove the use of amenities due to its high environmental impact. However, customers who want amenities will be able to buy them at the reception and a percentage of this money will be allocated to actions to eliminate plastic in the oceans.
Are you in?
We pack water in cardboard bootles
Image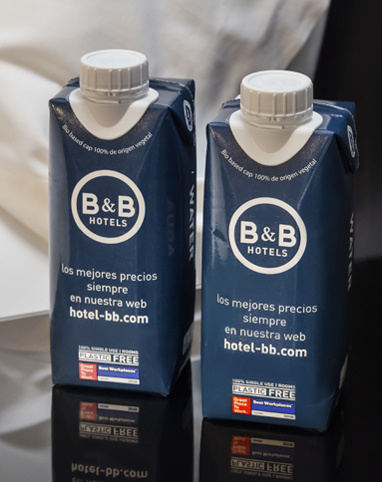 Did you know that every year more than 8 million tons of plastic bottles and it is estimated that by 2050 there will be more plastics than fish in the sea? Greenpeace claims that the amount of plastic that ends up in the ocean each year is equivalent to 1,200 times the weight of the Eiffel Tower, while, focusing on Spain, it claims that we only recycle 30% of the plastic produced. For this reason, at B&B hotels, we have taken the initiative to replace all water bottles with cardboard bottles. They are made from 70% renewable material and have a vegetal stopper.  
 We offer these cardboard bottles to our clients in some of our hotels. You will find them in your rooms, which will allow you to enjoy the water in a way not only comfortable and practical, but even more eco-friendly and healthy. 
Using recycled materials and creating recyclable tetrabriks, we contribute to the philosophy of recycling. In addition, plastic bottles can release toxins when exposed to light, and these can be harmful to our health, so this change is also beneficial to us as individuals.
What do you think of our initiative?
Be eco 
Image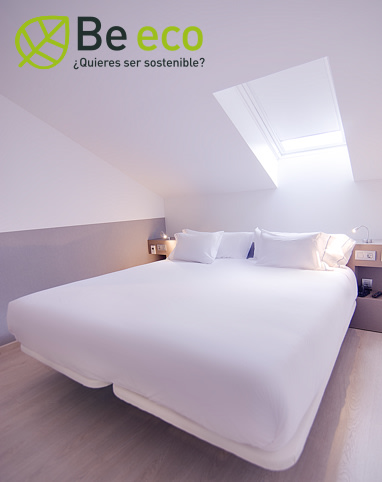 As you know one of our main concerns at B&B Hotels is the environment. If you are going to stay more than one night with us, we give you the option of refusing to clean your room to contribute to the environment, in return you will get a free breakfast* or 4€. A choice you will be able to make while you check in!
The possibility of dispensing with the daily cleaning of the rooms is the right way to move towards sustainable tourism. Thanks to this action we are succeeding in reducing the consumption of water and electricity and reducing the emission of cleaning products.  So, if you want to opt for a less regular service, either because you prefer not to be disturbed or because you care about the environment, just tell us at reception. 
We only have one world, take care of it!
*B&B Hotels in Fuencarral 46, Fuencarral 52, Plaza Mayor and Puerta del Sol do not offer breakfast. Customers staying at these hotels can only choose the option of the 4€ refundable.
LED Lights
Image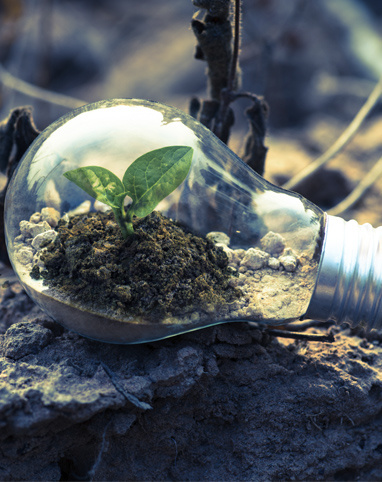 Did you know that if in a million homes four conventional light bulbs were exchanged for LED light bulbs, would 900,000 tonnes of CO2 be emitted less annually? At B&B Hotels we are very aware of the importance of taking care of the environment. Therefore, in our hotels we have eliminated all conventional light bulbs for LED light bulbs. 
It is a very simple change with great impact. In our hotels we have more than 3,000 rooms and in each of them we have an average of 8 light bulbs. Result? We are managing to emit 5,400 tonnes of CO2 a year less. 
It is true that the price is higher, although the amortization is fast: they consume 80% less and if a conventional light bulb has a useful life of 1,000 hours, or a year on average, the LED light bulbs last 15 times longer.  
A more difficult change to carry out, as it implies a change in habits, but which we recommend one hundred percent, consists of using artificial lighting as a scarce luxury:
Take advantage of daylight (and think of work, leisure or rest spaces accordingly).

Turn off the lights when leaving the rooms.

Use nearby lights to read or study and eliminate the use of indirect lights.
Cheer up and do your bit to make this world a better place!
Electric chargers
Image
Urban transport is responsible for 30% of all CO2 emissions. Another of the initiatives we have implemented at B&B Hotels are chargers for electric cars.  Our customers will be able to recharge their vehicles free of charge. You will find two charger units in each of our car parks; one exclusive for Tesla customers, and another for all electric vehicles with a Type 2 connector.
We are convinced that the world must be more sustainable. At B&B Hotels we are committed to the environment, as well as to innovation and technology. In addition, our guests are everything to us and we think about the benefits it can bring them.  We are very proud to be one of the hotel chains in Spain that offers this type of service to its clients.
In short, our goal with the implementation of these initiatives is to fight for a better world and make the guest feel at home, have a unique stay and take the best memory of their stay in our hotels.
We are waiting for you with your electric car!
Earth Hour
Image
More and more individuals, companies, associations, institutions, organizations of different types, cities and towns are betting on the conservation of the biodiversity of our Planet, but we still have a lot to do. Since 2019, at B&B Hotels we have joined the "Earth Hour" initiative every year.  Every year, the last Saturday in March, between 20:30h and 21:30h, we symbolically turn off the lights in all our receptions, common rooms and outdoor areas. 
Earth Hour was first celebrated on 31 March 2007 in Sydney, Australia. It is estimated that from 7:30 p.m. to 8:30 a.m. between 2.1 % and 10.2 % was saved. About 2.2 million people participated. The U.S. city of San Francisco was inspired by this idea and led people to participate and observe the beauty of the night sky, without the interference of Lights Out' light.
Moved by the accomplishments, Earth Hour organizers did the same in 2008, between 8:00 and 9:00 pm. 34 countries and 400 cities from around the world participated. Since then, every year the results are better.
Don't hesitate and join the next one!
Paperless Office
Image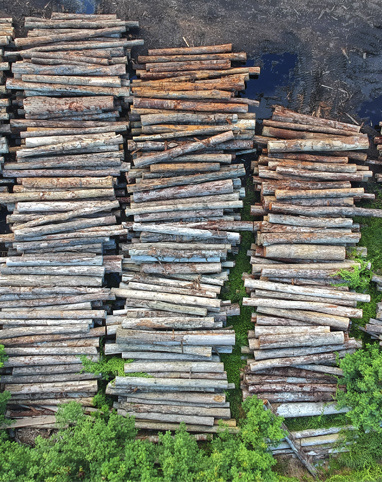 Did you know that to produce an average of 12,000 sheets of paper is needed, the cellulose of a single tree on average and according to research, it takes 15 trees to make a ton of paper? In order to preserve our forests, at B&B Hotels we are Paperless, meaning that in our offices we do not use paper and if we use, we will make the minimum use. Here are some of the actions we have taken:
Our offices do not have a printer.

Our invoices are digital and are only printed if the client requests it.

The "Welcome" with which we welcome our customers is sent digitally.

We have eliminated the consignment or shift change book used by our receptionists for a digital document.
In addition, the benefits of eliminating paper are innumerable:
Less need for physical storage space.

Less production of garbage (environmental awareness).

Digital documents can be consulted faster.

Collaboration is easier on documents.

Less time is wasted searching for documents.
You too can help improve our world!