COVID-19 | Travel info and safety at B&B Hotel Ljubljana Park
In line with the preventative measures to contain the spread of the virus COVID-19 the Government of Slovenia requires that guests who will use Accommodation facilities (Hotel) need to present one of 3 conditions: negative test or evidence of vaccination or evidence that a person had recovered from COVID-19
More details below:
1. Certificate of a negative result for the virus SARS-CoV-2 with a PCR test or with a HAG test, which is not older than 48 hours from taking the test; or
2. Evidence of vaccination against COVID-19, which proves that from receiving:
The second dose of Comirnaty vaccine manufactured by Biontech/Pfizer at least seven days, COVID-19 Vaccine manufactured by Moderna at least 14 days, Sputnik V vaccine manufactured by Russia's Gamaleya National Centre of Epidemiology and Microbiology at least 14 days, CoronaVac vaccine manufactured by Sinovac Botech at least 14 days or COVID-19 Vaccine manufactured by Sinopham at least 14 days,
The first dose of Vaxzevria vaccine (COVID-19 Vaccine) manufactured by AstraZeneca at least 21 days or Covishield vaccine manufactured by Serum Institute of India/AstraZeneca at least 21 days,
Dose of COVID-19 Vaccine Janssen manufactured by Johnson and Johnson/Janssen.Clag at least 14 days or
The second dose of vaccine from a individual types of vaccine referred to in the first or second indent, if a person is vaccinated with a combination of two different vaccines from this point, after the time has elapsed since receiving the second dose of each type of vaccine specified in this point. If a person in this indent receives a dose manufactured by AstraZeneca for the first time, protection will be established immediately after receiving the second dose, if the person received the second dose manufactured by Biontech/Pfizer or received a dose manufactured by Moderna within 28 to 84 days (4 to 12 weeks) after receiving the first dose; or
3. Evidence of a positive PCR test result, which is older than 10 days, unless the doctor decides otherwise, and not older than six months; or
4. A doctor's certificate that the person had recovered from COVID-19 and no more than six months have elapsed since the beginning of the symptoms
Reservations at B&B Hotel Ljubljana Park
We have adjusted the terms of business in order to help you in these uncertain times. We are at your disposal for all questions and wishes. Contact us if you need to change, cancel or postpone your trip.
• In case you cannot travel, we advise you to postpone your reservation to another date. If this is not an option, you can cancel the reservation.
• You can cancel your reservation free of charge no later than 1 day before arrival. Let us know in writing by email ljubljana@hotelbb.com
• For all individual inquiries and reservations made directly through the hotel or hotel website, write to: sales-ljubljana@hotelbb.com
• For group reservations (10+ rooms) and reservations of our premises for various events, please write to: grpsales-ljubljana@hotelbb.com
Information about other bookings made in Europe click here.
Hygiene and Cleaning Standards
B&B Hotel Ljubljana Park closely monitors the actions of the NIJZ (National Institute for Public Health for disease control and prevention), as well as the declarations made by the World Health Organization for staying safe.
For the safety of all, please respect the measures we have put in place to make us all feel safe.
Check-in and check-out
• The check-in and check-out process will be done as quickly as possible, with minimum interactions and maintaining social distance
• When you will arrive at the hotel, your room key and invoice for the ordered service will be waiting for you at the reception
• All employees will maintain a safe distance, use disinfectants, and wear protective equipment
• The recommended number of people in the lift is 1, except for families
Sanification
• In all enclosed public spaces wearing a mask or scarf is mandatory. Also regular hand disinfection
• Signages are located in our hotel public spaces to remind guests to maintain social distancing protocols
• All hotel public surfaces are cleaned and disinfected on a high-frequency basis in all frequent use areas
• The housekeeping staff will not enter and clean the guest room during stay unless requested by the guest. If so, their room will be serviced without the guest's presence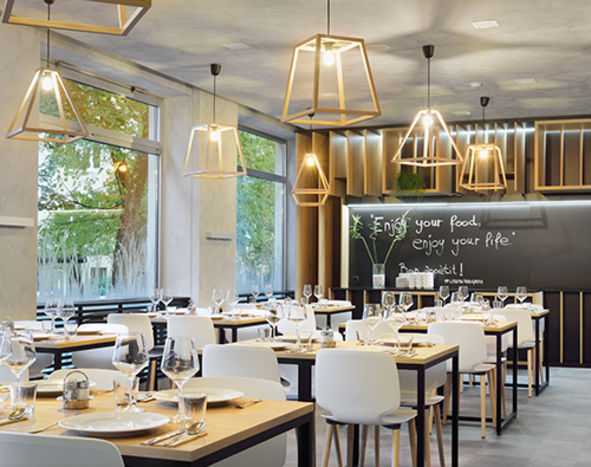 Breakfast and meals
• In restaurants special measures are also applied, with which we want to provide a top service with minimal interaction between staff and guests. Tables with chairs are separated from each other by at least 1.5 meters
• Following government instructions, breakfast is served, as breakfast buffet is not allowed
• Guests can enjoy breakfast in the restaurant every day between 8.00 and 10.00. The exceptions are Sundays when the restaurant is closed. On these days we provide guests with a breakfast box, which can be pre-ordered in the room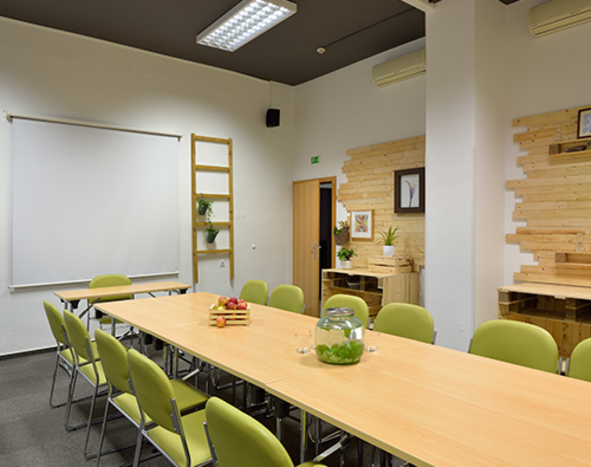 Conference services, events and catering
• For events & meeting rooms, the distance and protection measures for attendees, as well as catering services, will always be controlled
#COVID-19 | HELP US HELPING YOU
To ensure compliance with the new safety protocol, we also ask our guests to do their part: by respecting these simple rules, it will be possible to make everyone's stay at B&B Hotels in Italy safer and better.
8 rules to follow